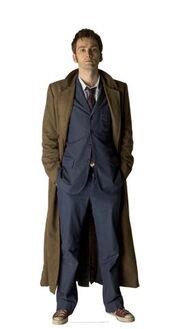 Tenth Doctor
399px


Actor

David Tennent

First Episode

Parting of the Ways

Last Episode

Journey's End (failed regeneration) The End of Time (2010)

Companion(s)

Rose Tyler, Mickey Smith, Donna Noble, Martha Jones, Jack Harkness, Sarah Jane Smith, Lady Christina de Souza, Adelaide, Wilfred Motts
Ad blocker interference detected!
Wikia is a free-to-use site that makes money from advertising. We have a modified experience for viewers using ad blockers

Wikia is not accessible if you've made further modifications. Remove the custom ad blocker rule(s) and the page will load as expected.