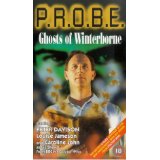 P.R.O.B.E was Doctor Who's first ongoing spinnoff. It lasted for 4 movies.
The Zero ImperativeEdit
The Zero Imperative was the first P.R.O.B.E movie. It was released in 1994
The Devil of WinterborneEdit
The Devil of Winterbourne was the second P.R.O.B.E movie. It was released in 1995
Unnatural Selection
Edit
Unnatural Selection was the third P.R.O.B.E  movie. It was released in 1996
Ghosts of Winterbourne
Edit
Ghosts of Winterbourne is the fourth and last P.R.O.B.E movie. It was released in 1996
Originally, all of the P.R.O.B.E movies were rated 15+ by the BBFC (except for Ghosts of Winterbourne, which was rated 12+) for violence. When they were later re released on DVD and the BBFC's censorship had calmed down, two versions were made. First, the 12+ version. These DVDs were just the same as usual (except for some cuts made to Ghosts of Winterbourne) and they were rated 12+ . Second, the U versions. These were heavily cut, but evry one was rated U
Ad blocker interference detected!
Wikia is a free-to-use site that makes money from advertising. We have a modified experience for viewers using ad blockers

Wikia is not accessible if you've made further modifications. Remove the custom ad blocker rule(s) and the page will load as expected.